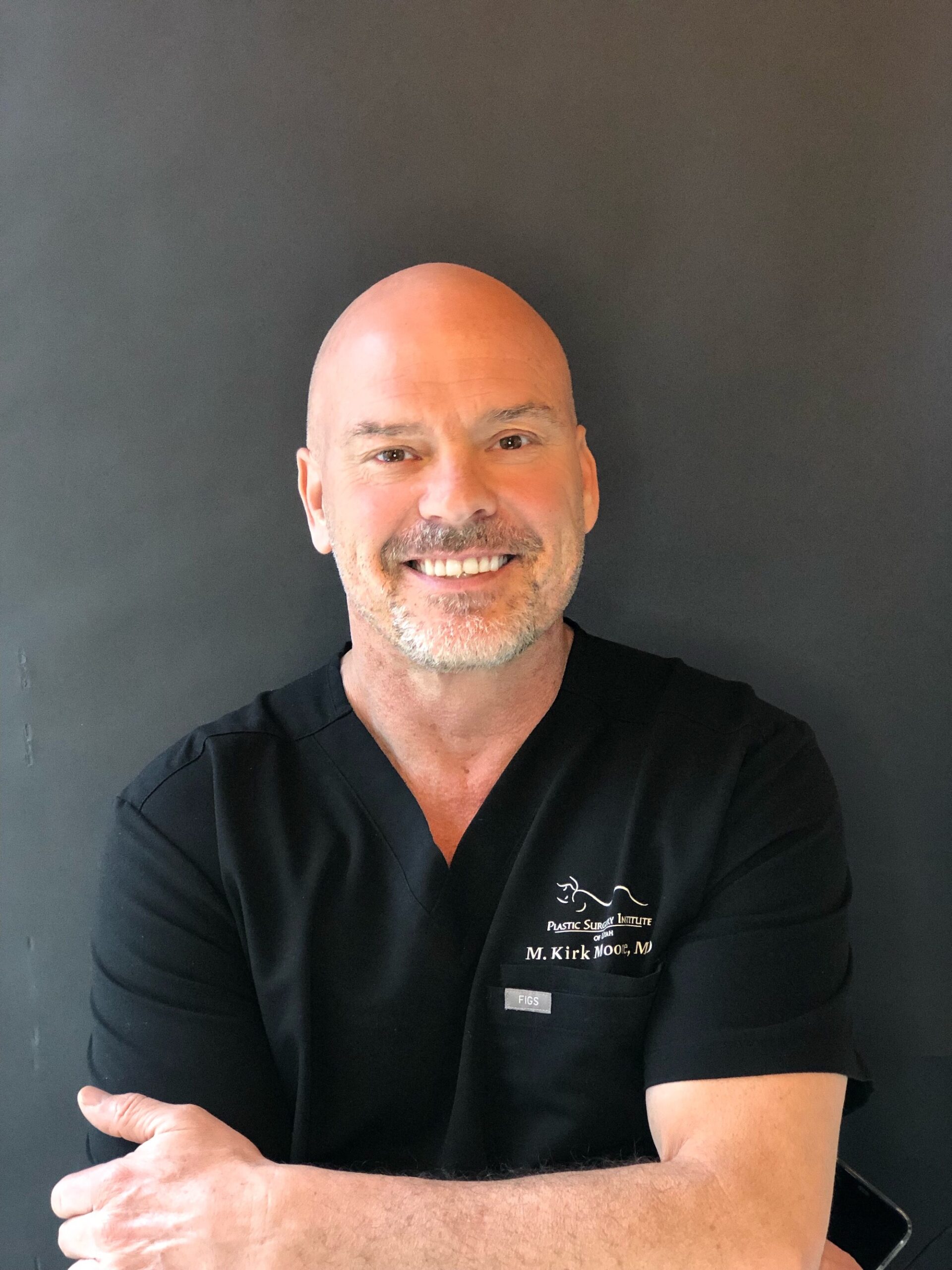 EDUCATION AND TRAINING
Throughout his educational journey, Dr. Moore devoted himself to excellence. His training in the discipline of cosmetic surgical techniques is unequaled. After earning his master's degree from Hahnemann University, he went on to attend the reputable School of Medicine at the University of Miami. Here, Dr. Moore received his medical degree and graduated with Alpha Omega Alpha honors. Further enhancing his experience, Dr. Moore completed his prerequisite General Surgery training, after graduating from medical school. After that training, Dr Moore completed his plastic surgery residency at the University of Colorado Health Sciences Center.
SPECIALTIES AND EXPERTISE
Dr. Kirk Moore is a board-certified plastic surgeon who treats patients all across the greater Salt Lake City, UT metropolitan area and beyond at his Midvale, UT practice, Plastic Surgery Institute of Utah. With his tireless pursuit to elevate standard breast augmentation techniques, Dr. Moore has garnered worldwide attention for his Rapid Recovery breast augmentation procedure methodology. Men and women regularly travel from all around the country to seek out his experienced, personalized care. Throughout his flourishing career, Dr. Moore has committed himself to provide compassionate care to everyone who visits his premier plastic surgery office.
Dr. Moore is licensed by both the Utah Department of Occupational Licensing and the Idaho Board of Medical Examiners.
With nearly two decades of experience in the medical profession, Dr. Moore specializes in performing a range of aesthetic enhancements for the breast, body, face, skin, and hair. Among the full library of services he offers at his Greater Salt Lake City, UT practice, Dr. Moore is largely known for his work with breast augmentations, breast lifts, breasts revisions, tummy tucks, rhinoplasties, CoolSculpting, injections (such as BOTOX and Juvéderm), and advanced weight loss techniques (such as ORBERA and Obalon).
For many years, Dr. Moore's passion was to formulate an ideal methodology for breast augmentations. His goal was to make this procedure safer and simpler while significantly minimizing the patient's discomfort. To accomplish this, he began to analyze the most common concerns women experienced when considering undergoing a breast augmentation. He then worked to eliminate these concerns. Over time, his hard work allowed him to finesse the breakthrough 48-hour Rapid Recovery breast augmentation. While most plastic surgeons still use more traditional surgical methods, Dr. Moore sets himself apart from his peers by implementing innovative approaches to creating beautiful, natural-looking breast enhancements.
Rapid Recovery Breast Augmentation
Dr. Moore's passion has been to perfect the Breast Augmentation procedure to make it simpler, safer, and pain free, while achieving astonishing results. His breakthrough Practically Pain Free Rapid Recovery Procedure© has been the result of years of experience. Dr. Moore has dedicated his career to perfect Breast Augmentation.
Dr. Moore is expertly trained in a full range of procedures, including breast augmentation, skin rejuvenation, liposuction and rhinoplasty. No matter what type of enhancement areas you are seeking, Dr. Moore can make that dream a reality!
PERSONAL
When he is not hard at work in the office achieving stunning results for his patients, Dr. Moore enjoys snow skiing, playing soccer, water skiing, and spending time outdoors. He is an avid traveler and takes delight in exploring countries all around the world. Dr. Moore is fluent in Italian and proficient in speaking both Spanish and French.