Traveling to Midvale, UT for Plastic Surgery

VISITING MIDVALE, UT
Nestled comfortably in the southern region of the Salt Lake City metropolitan, Midvale, UT offers visiting patients gorgeous mountain views, countless family-friendly attractions, and unique, peaceful culture. Whether you're in search of an active nightlife or vivid venues (such as art museums, guided tours, or zoos and gardens), our community has everything you need to feel at home. Depending on the service you're set to receive, you may even be able to partake in some of the outdoor recreational activities that our side of the mountains is known for. Patients of Dr. Moore receive a special rate at the Crystal Inn Hotel & Suites. This upscale boarding is surrounded by local eateries and located conveniently off of I-215.
3-DAY INITIAL VISIT
With Dr. Moore's brilliantly designed 3-day program, traveling patients find that they are able to plan their trips effortlessly without forgoing their daily commitments. For these 3-day visits, patients have the option of selecting Monday – Wednesday or Wednesday – Friday. Your initial stay will be broken up into the following parts:
Day 1: Consultation and pre-operative preparations
Day 2: Surgical procedure is performed
Day 3: Follow-up
After your third day follow-up, you will be able to return home. Following your initial visit, you will be required to return for two additional post-operative follow-ups: one after three weeks and one after three months. All of your yearly check-ins (such as the 1-year, 3-year, 5-year, etc.) may then be done via a virtual consultation with Dr. Moore. Out-of-town clients are encouraged to send our office pictures prior to their arrival. This will allow you to receive an estimated quote for your service. Your quote may change once Dr. Moore is able to see you in person.
*Individual results are not guaranteed and may vary from person to person. Images may contain models.
OUR WORLD CLASS FACILITY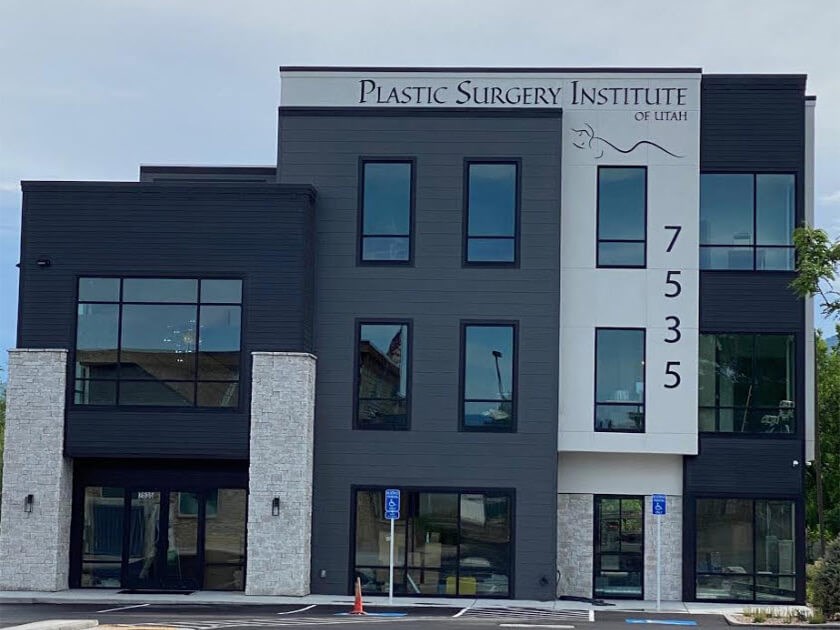 Dr. Moore has also worked hard to create a safe and comfortable environment for each of his clients.  Our operating facilities are certified by the highest standards set forth by the American Association for Accreditation of Ambulatory Surgery Facilities, and the Joint Commission on Accreditation of Healthcare Organizations.  Dr. Moore sees only one client at a time, scheduling appointments accordingly so that no one feels rushed or passed over.
From the initial consultation to the postoperative follow-up, our professional team will walk you through the entire process.  This ensures that all questions and concerns are addressed.  In addition, our staff has a soothing bedside manner, helping our clients feel at ease and welcome.  Dr. Moore is renowned for his Practically Pain Free Rapid Recovery breast augmentation surgery, abdominoplasty (tummy tuck), breast lift and reduction.
Our friendly staff is knowledgeable and professional, and we work hard to make your visits as comfortable as possible.  All of our technicians are certified professionals who have undergone extensive training in their respective fields.  As a result, you will always receive the highest level of care, utilizing the latest techniques and cutting edge technology.
For our breast augmentation the type of anesthesia administered is very unique and effective. There are no gases and no narcotics used. It is a general anesthesia, but you don't get the post-operative nausea. You are awake and going home within 30-40 minutes after the procedure is completed.
Our post-operative approach is very unique. Unlike most surgeons, Dr. Moore wants you moving. You will be raising your arms above your head the minute your surgery is complete. You will shower a few hours after surgery, washing and blow-drying your hair!  Then we want you to go out to dinner or movie that same evening. We even had a client go to a football game four hours after surgery! You will be stretching and moving your arms every hour thereafter.
Pricing for breast augmentation starts at $4500 but can go to $8000 depending on your particular needs. It is impossible to give you an accurate quote without first having a consultation because of circumstances around your particular needs. Variables such as a lift and additional facility and anesthesia time affect the final costs. While costs are certainly an important consideration, by far the most important for us is client outcome. With Dr. Moore's practically pain free, rapid recovery procedure, you will have amazing results with little down time, minimal pain, and significantly reduced recovery time! Most of our clients are back to work the next day. The only thing we really limit you to is heavy lifting for 4-6 weeks.
We perform all of our procedures in our own, brand new, fully certified operating room. Our facility is a AAAASF-certified OR. This is the highest certification available for in-office operating room suites. We try to do everything we can to help expedite surgery for those requesting breast augmentation. We only use implants by Allergan or Mentor (the only FDA-approved implant manufacturers), as these are the best ones available and with the best warranties. They typically give the client 10 years of coverage for anything involved with a ruptured implant, but also cover the implant itself for the life of the implant.
For more in-depth information on breast augmentation, and if you have not already done so, please view out breast augmentation information page by clicking here.
There are several options for paying for your procedure.  Many clients choose to finance their procedure through a variety of options.  We suggest you apply for financing before you'r ready to schedule.  If at any time you have questions regarding your financing options, feel free to
contact us
 and we will be happy to assist you. While we can list several options that many of our clients have used, it may not be a complete list of options available to you. Options include 

personal loans from their banking institution, 
loans from their 401k or retirement plans, 
cash from a refinance on their homes, or second mortgages (the interest is then tax deductible)
, and all major credit cards, as well as
 Third Party Financing Institutions

. We do work with with many financing institutions that would be able assist you in any with financing that you may need.  See a full list of resources for financing by 
clicking here
.
In order to make your visit out to Salt Lake City as seamless as possible, here are some recommendations on where to stay. These suggestions are located very close to fine dining and The Fashion Place Mall, and all are close to our office.
Extended Stay:
7555 S. Union Park Avenue Midvale, UT 84047 – 801.567.0404 (this hotel is directly next to our office)
Residence Inn:
270 West 10000 South Sandy, UT 84070 – 801.561.5005
Hyatt House:
9685 South Monroe Street Sandy, UT 84070 – 801.304.5700
Holiday Inn Express:
10680 Automall Drive Sandy, UT 84070 – 801.813.1828
If you want to google more options you can use zip code 84047 for Midvale, UT. Downtown Salt Lake is a little more expensive but you are within walking distance to shopping, dinner and the TRAX light rail system.