Choosing the Right Plastic Surgeon

in Midvale, UT
CHOOSING THE RIGHT COSMETIC BREAST SURGEON
SALT LAKE CITY, UTAH
Choosing the right breast surgeon is a vitally important decision. Entrusting your health and safety to a well-credentialed, experienced physician is crucial. We believe that your decision should be based on knowledge and trust, as well as on the breast surgeon's experience and credentials, and certified operating room facilities.
Initial Consultation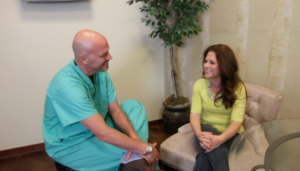 Trust is developed over time, and begins with your initial consultation with the breast surgeon. This initial meeting is designed to be a comfortable and informal systematic discussion on the procedure you are considering.  Dr. Moore will review and evaluate your desired goals as expressed in both your initial phone consultation and your subsequent meeting with our patient coordinator.
Physical Examination
Dr. Moore will then:
Review your medical history and lifestyle.
Conduct a physical examination to determine if you are a good candidate for our Rapid Recovery Procedure.
Our goal is to listen to your wishes and concerns, inform you on the risks and benefits associated with the procedure, and discuss at length the recovery period and what you should expect.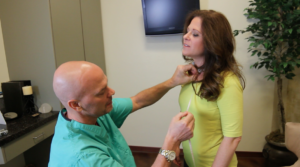 Making The Decision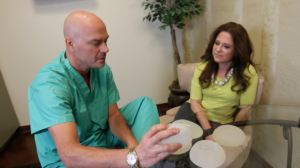 It is important to come prepared with your questions, and to be sure that you understand all the answers.  After you have gone through the whole consultation:
You'll have all your answers.
You will have formed an impression of the surgeon, his staff and his facility.
You'll be in a good position to make a decision.
But just because you've had this initial consultation, don't feel obliged to choose this surgeon. It's important to factor in your personal feelings because you'll be giving an important job to this cosmetic surgeon, and you'll want to feel you can trust him.
To learn whether a surgeon is board certified in plastic surgery, call 1-800-776-2378.
SURGEONS' EXPERIENCE & CREDENTIALS
Your breast surgeon should be certified by the American Board of Plastic Surgery (ABPS). This is the ONLY plastic surgery certification that is approved by the American Board of Medical Specialties (ABMS). By choosing a Board Certified plastic surgeon, you are ensuring that the surgeon:
Has graduated from an accredited medical school
Has completed intensive residencies in both general surgery and plastic surgery
Has practiced for at least two years
By choosing a credentialed plastic surgeon, you will help reduce the risks of your plastic surgery procedure.  Dr. Moore is a Board Certified plastic surgeon, and have over ten years of experience and many happy patients! Our goals are your safety and satisfaction, and our entire staff works hard to provide a comfortable experience from start to finish.
Operating room facilities are certified voluntarily, not by requirement. Certification of operating room facilities is voluntary.  There are few local, state or federal laws requiring office-based operating rooms to be certified. Any physician may perform any procedure in an office as long as the basic fire and safety codes are met. No level of sanitation, patient care, monitoring or peer review is required. At Just The Right Curves, we have gone to great effort and expense to ensure the highest standard of safety for all our patients, and that includes the choice to have our operating facilities fully licensed by the State.
Our surgery center is the perfect setting for undergoing all types of cosmetic surgery. Anesthesia is provided by board certified anesthesiologists, or nurse anesthetists who work under direct supervision of a certified anesthesiologist. We choose anesthesiologists who are in active practice because we believe their exemplary skills would be required in the event of an emergency.  These stringent national standards for equipment, overall operating safety of the equipment, validation of personnel and surgeon credentials are designed to provide patients with the highest level of assurance.